It's great to be back in my home region – living in a house that's exactly what we have always dreamed of," says Jaakko Iivari.
Jaakko and Tiina Iivari built a traditional and cosy 105-square-metre log house to Lohiniva in Rovaniemi. The house was completed in April 2020. The couple compared houses from several different log suppliers and finally chose Pellopuu's Ajanki 105 log house (former Levi 205B) with small modifications. Traditional extended log corner was chosen as the corner solution.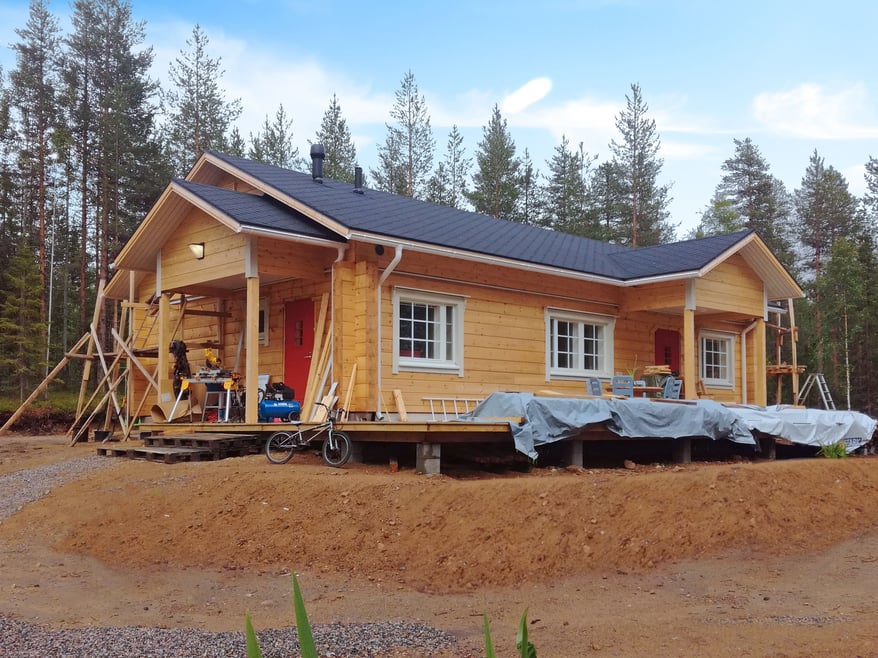 Pellopuu produced and delivered the house as an extended wooden part delivery in which almost every part from the foundation to the top came from Pellopuu. The layout includes three bedrooms, an open-plan kitchen-living room with a fireplace, bathroom, sauna, covered porch in the front yard, and a side terrace with direct access from the bathroom and sauna. In addition to this, Jaakko and Tiina built a good-size 50-square-metre terrace in between these two porches, offering ample space for spending time on lovely summer evenings.
"We wanted log to be our main material because before we had a house that had indoor air issues. It was already back then that we decided our next house would be built from log, thanks to log's excellent indoor air properties. You know, log is an old and well proven material – it comes with a certain degree of guarantee. A log house will still be standing after one hundred years," says Jaakko.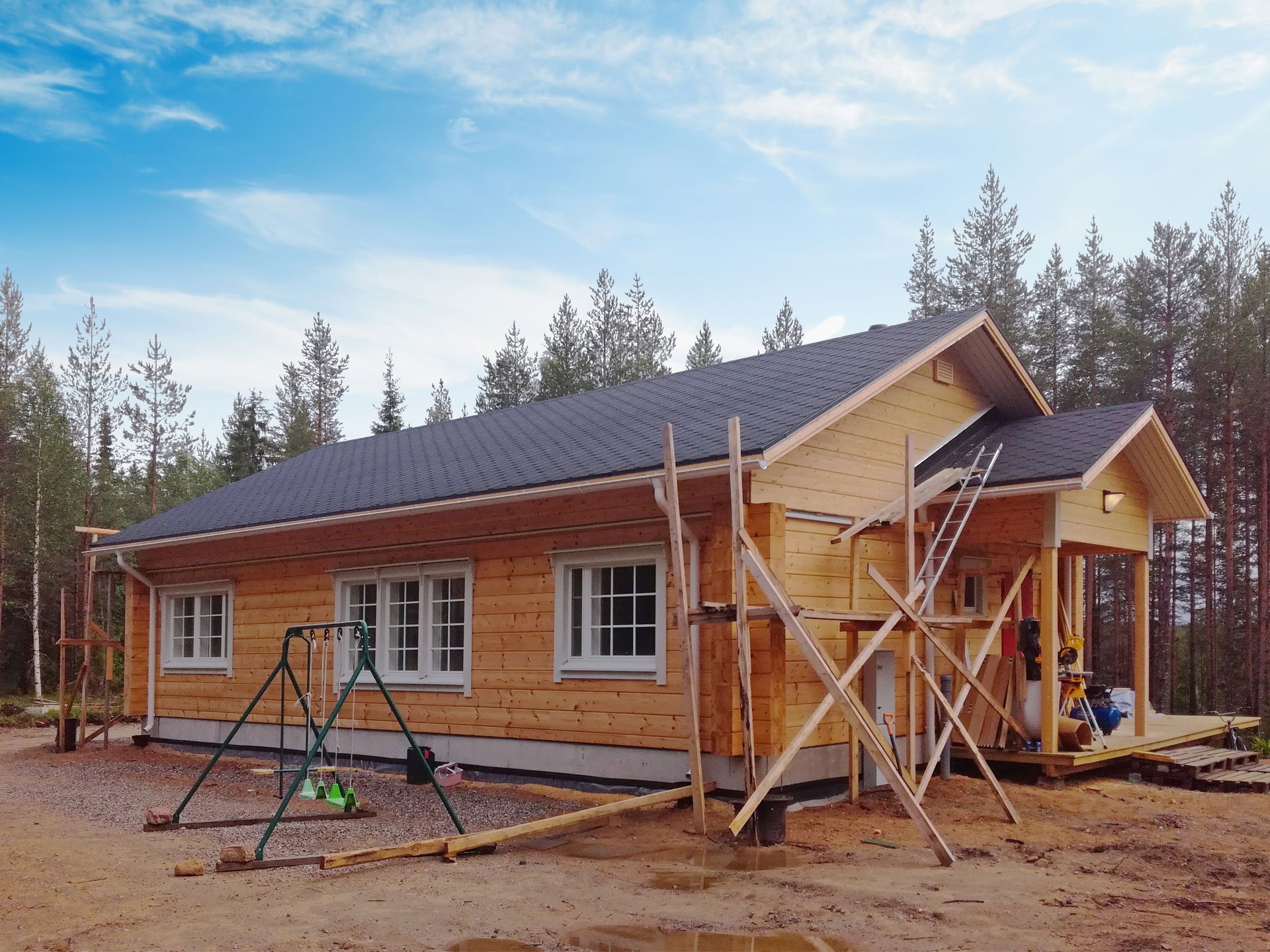 "The 270-millimetre strong and 234-millimetre high laminated pine log, consisting of four lamellae, was chosen as the building material. The log's high profile and thickness also goes well together visually," Jaakko continues.
"The house has a large and spacious open-plan kitchen-living room for which we chose to use scissors trusses to provide additional room height. Thanks to this, the ceiling now rises about 60 centimetres higher in the centre of the room, which makes the space feel larger," explains Jaakko.
"The house was built entirely by volunteers. We want to send a huge thank you to all of our friends, family members, relatives and neighbours who helped us. In May, after the snow had melted, I commissioned a ground survey for the property that had been divided from my family's estate. In June, we sent an order to Pellopuu and I started clearing out the property. In July, we got a construction permit, and in the end of August, we cast the plinth. Logs were delivered to us on the 25th of September, and the log frame was assembled in two days. Rooftop was completed on the 7th of October, and the floor was cast on the 31st. Dividing walls were up in March 2020, and in April, the ground-source heat pump was finally turned on and the kitchen completed. The house was taken into use on the 25th of April, which happens to be Tiina's birthday."
"The project went really well. There was nothing to criticize. Pellopuu provided us with excellent and fast service throughout the project. I have spent my whole childhood here in Lohiniva. It's great to be back in my home region – living in a house that's exactly what we have always dreamed of," Jaakko concludes.
See more images of the project in the References section.
Download our brochure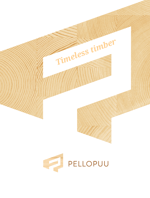 We offer a comprehensive range of high-quality and modern log solutions for those looking for a new home
as well as large construction projects. Download our newest brochure.